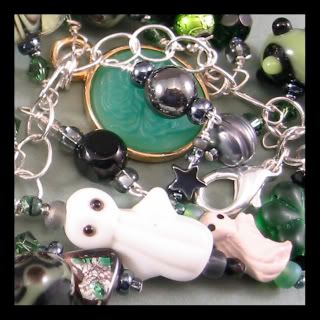 When the crypt goes creak,
And the tombstones quake.
Spooks come out for a swinging wake.
Happy haunts materialize,
And begin to vocalize.
Grim grinning ghosts come out to socialize.
Now don't close your eyes,
And don't try to hide.
Or a silly spook may sit by your side.
Shrouded in a daft disguise,
They pretend to terrorize.
Grim grinning ghosts come out to socialize.
(Music by Buddy Baker and lyrics by F. Xavier Atencio)
I made this bracelet for an EHAG Challenge. The theme was Frightful Fête. My family is a fan of the Haunted Mansion at Disneyland, and my younger son is quite the Haunted Mansion historian. He hones his dark photography skills there and has some nifty shots on Flickr: http://www.flickr.com/photos/maggotpie/sets/72157600041697584/
He was my spirit guide, as it were, in the making of this bracelet. I hunted the charms everywhere. I found a cool hearse from an etsy seller who makes pewter charms. The Caesar face, for Great Caesar's ghost, came from a vintage bracelet I bid on in an ebay auction… just to get one face. (Anyone need some Caesar profiles??)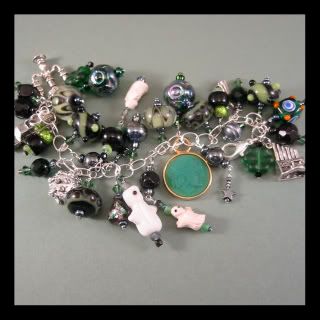 I try to keep charms sterling silver when possible, and collected a chandelier, a pipe organ, and a ghost. I also have an artisan-crafted lampwork ghost (you can't have too many ghosts, after all). And I put it all together in spooky greens and blacks.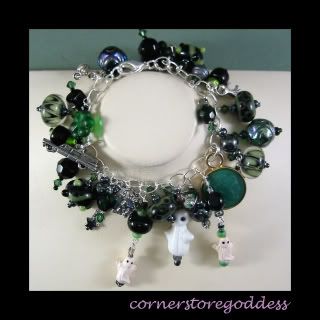 It is beyond one-of-a-kind. It speaks to our obsession. And the entire time I was making it, I couldn't get the song out of my head.
It's right here: http://cornerstoregoddess.etsy.com
As the moon climbs high o'er the dead oak tree,
Spooks arrive for the midnight spree.
Creepy creeps with eerie eyes,
Start to shriek and harmonize.
Grim grinning ghosts come out to socialize.
When you hear the knell of a requiem bell,
Weird glows gleam where spirits dwell.
Restless bones etherialize,
Rise as spooks of every size.
If you would like to join our jamboree,
There's a simple rule that's compulsory.
Mortals pay a token fee.
Rest in peace, the haunting's free.
So hurry back, we would like your company.